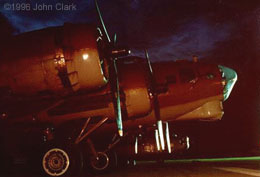 The Bluebeard Flight sports some of the most enthusiastic and hard working pilots in the CMC that can be counted on to do buff runs, bring gooneys, or dive headlong into massive bomber formations with deadly results..
---

[054] PapaH - Lt. Col.


[Bluebeard Flight Leader]

PapaH (or Smitty, as he known to some) is a Bluebeard thru and thru with great attitude and an amazing vocal range :) If he's only get a mic talk to us on vox! One of (if not THE) best writers in the CMC, his recounting of past operations is the stuff of legends. Since the introduction of rockets into Aces High, you could say Papa has found a new addiction. A killer pilot and great wingman, he can fly and fight with the best of them.

Promotion History Loot from Bounties
4/16/98 Lt2 none
11/10/98 Lt1
1/5/99 Cpt
2000 Maj
5/8/03 Lt. Col.

Quote: "Rockets!!"

Favourite Aircraft: "Anything that will carry rockets!"

Bragging rights: "He can shoot more rockets than you can"

---

[014] Duster (Trev)- Colonel

Duster (or Trev as most of us know him) is an exceptional pilot with a rare streak of coolheadedness that has been crucial in many ops. Don't let his apparent easy going attitude fool you though, he's quick to analyze a situation and ensure an appropriate (and usually deadly) response. Trev has spent his entire Cutthroat career with Bluebeard flight and held the reigns of flight command before passing them onto Marco. He is an active and uniquely reliable sky pirate and a super cool bloke to boot. Trev is currently on reserve duty.
Promotion History Loot from Bounties
9/6/96 Lt1 none
3/3/97 Cpt
8/1/97-8/26/98 S3 Operations Officer
10/20/97 Maj
4/18/98-10/10/99 FL Bluebeard
7/9/98 LtCol
1/7/99 Colonel
12/01 Placed in active reserve
Quote: "Backup your friends whatever the cost"
Favourite Aircraft: "Spitfire [actually, he's an awesome 38 pilot too, just don't put him in a C-47 tho, unless you are digging holes :) - Boa]"
Bragging rights:
Scored a 10 kill mission during Operation: Protect Trev At All Costs (his 100th mission)
---
[060] Marco - Lt. Colonel


Marco is perhaps the most dedicated pilot the Cutthroats have ever fielded. He never missed an Operation in AW and by May of 2000 had complete his 100th straight op. He's a Cutthroat with a decade's worth of WWI and WWII flight sim experience. When you add his AW scenario flying and command experiences, you get an individual uniquely qualified to take over command of Bluebeard flight from Colonel Trev. His real life hobby of building super-detailed scale models has to be seen to be believed!
Promotion History Loot from Bounties
4/30/98 Lt2 50 doubloons
8/10/98 Lt1
1/5/99 Cpt
7/7/99 Major
10/10/99 - 5/7/03 Bluebeard FL
3/3/00 Lt. Colonel
Quote: "Backup your friends whatever the cost"
Favourite Aircraft:
Bragging Rights:
---